"So you have some worksheet questions."
"Let me try and answer them!"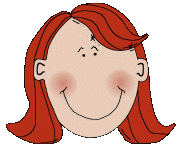 Worksheet FAQ's
Completing your Worksheet
-Step 1-
Simply download a worksheet for the package you want.
Click on the worksheet that is for the size website you wish to order. It will ask if you wish to save or run. Choose save and save it to a location that you will be able to find it at later. You may want to save it to your desktop.
-Step 2-
Open the file.
Click on the file where you saved it. It should launch your word processor. If it does not go ahead and open your word processor then access the file from the Open New File menu.
If you do not have a word processor you can get one free. OpenOffice.org which is my favorite, it is a free open source office suite and includes a word processor, they have versions for Windows and Mac OS.
While a text file is not as nice looking you can use the text version and open it in NotePad or in any other text program. Because it is text only it is very plain and may be confusing. That is why we recommend using the doc version. If you have any problems please contact us right away.
-Step 3-
Complete your contact information.
We have a few general questions about your order that you will need to answer. Please make sure to give us all the information we need. Make sure to include the Order number of the design package you want us to make for you. There is a place for it at the top of the form.
If you have a partner or a committee that needs to be a part of the decision making process, we ask that you assign one person as the contact person for the project. We are happy to speak with anyone who may have a questions, but we have structured our low pricing based on dealing with just one contact person, thank you for helping us keep our pricing affordable.
If we have any questions and when your website is done we will need to contact you. Make sure you list which contact method your prefer. This method can be by phone or e-mail. We want to get your site up as quickly as possible so your contact phone number or e-mail address should be one that you check often.
-Step 4-
List your 3 favorite choices for a domain name.
You need to pick a domain name for your website. It can be any combination of up to 26 letters and numbers ending with .com, .org, .net, or .info.
In short, we ask you to think of at least three names you would like to have. We ask for three because there is always the chance that someone else has taken your first and second choices before we can get it.
Remember that just because you test a name in your browser and nothing comes up, or it says 404 error, it does not mean that the name is available. Many domain names are purchased and never used. The safest place you can go to check if your name is still available is - http://www.internic.net/whois.html
List your three best choices on your worksheet, 1,2 and 3. It's that simple.
Please check our Frequently Asked Questions section for more information about picking a domain name.
-Step 5-
Title, Slogans and Customers Comments.
Title- Your business name is usually your title or logo, if you want to use the website name like we have and put your business name in your slogan you can do that as well, just make sure to state that clearly on your worksheet. Keep in mind, there are a few designs do not have a place for a slogan. (If you have your own logo graphic, there will be an extra cost if you want it included, please contact us for a quote.)
Slogan- Just because we have a place for a "Slogan" it is still optional. If you keep your business name as your Logo then you may want to use your domain name as the slogan. This is an optional feature but is is a quick way to tell your viewers something important about you that they need to know. Think "Speedy Service" or "The best widgets around".
Customer Comments- It is also optional to include Customer Comments. If you do not have any comments please refrain from just making them up. It would be better to leave them off or to replace them with some interesting quotes. If you came up with too many slogan ideas here is the place to put them instead.
Reward- Write up the reward you want to offer any visitor who mentions your website when they order. See more about Rewards and why you should use this optional feature.
Why should I offer a REWARD?
The best feed back that your website is doing you some good is your customers. Web stats will tell you that you are getting hits on your site but the only way to know if those hits are becoming customers is either online sales or off line comments. The best way to get your customers to tell you if they saw your site is to reward them for mentioning it.
Customers love rewards. The reward can be as simple as a discount on their next order or a free gift. You can even require them to print out the reward as coupon, that they need to bring in to get their reward. Be creative. You can also use your "1 free Update" to change your reward. That means you can offer 2 different rewards a year.
We want to help so don't be afraid to call or email us.
-Step 6-
Give us your text for each individual page.
Each page needs your text added. The worksheet we provide is designed to help you get through this step more easily. A blank page can be so hard to overcome so we have included text that suggests what you might write in each section. These are just suggestions so replace it with the text you want.
Keep it brief - You will need to watch the amount of text you use. You must try to keep it to the spacing we have already provided. Some things like this Order page just require lots of text but try to keep it simple and to the point. Only if you have a 5 page Brochure package should you have any pages with a great deal of text.
Page Title - Each page has a page title that is displayed at the top of the brower. If you look at the top of this page you will see:
FAQ Worksheets | Get answers about completing your website worksheet at getiws.com
Bullets - If you want to use bullets go ahead and use the tab feature in you software. We only offer the traditional bullets like dashes, squares, circles and diamonds or numbers in the various traditional forms ( 1,2,3 ; A, B, C ; I,II, III etc).
Bolding- You can see I like to use bolding but try to use is sparingly. Just bold the text you want bold and we will do the same.
Text Color- Each pre-designed website has the text already pre-set to a color. If you need to change the text color for any reason we most likely will need to charge you extra.
Behind the scenes- You can not see it but behind the scenes in the code we make every effort to make your site look good to everyone, this includes the blind. There are standards set for handicap access and we test our site to make sure that they meet or exceed these standards. If you have any content that does not meet this standard we will let you know.
Any Browser Compatible- Also, our sites are 'Any Browser Compatible'. That means we test them in many different browser and monitor configurations. This is what makes creation of a good website so difficult. A web page may look great in one browser and messy in another. If you have too much content it can cause layout issues in some browsers to wrap funny. So, if we have this issue we will let you know.
If you have any questions just call or e-mail us. 1 (800) 289-2871
-Step 7-
Review your Worksheet.
Review your worksheet and make sure to run it through your spell checker.
We can not make any assumptions about what you meant to say, so we will put you text in just as it is, mistakes and all. If we do see some obvious error we will contact you for your correction, but this will slow down the whole process so please be sure to double check your work.
You will get a chance to see your page in action and you will have a chance to make any additional changes you may see at that time.
-Step 8-
Send us your completed Worksheet.
When you are done with your worksheet get it to us quickly, so that we can get started.
E-mail us the file. You will need to e-mail us the file as an attachment. This give us the ability to just swipe and paste your text right into the spots it needs to go. Less typing means less chance of error and cheaper website cost over all.
Us the e-mail address listed on our About Us page.
We want to help so don't be afraid to call or email us if you have any problems.